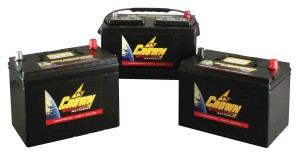 We are proud to offer Crown car batteries to our customers because Crown batteries are the most reliable batteries we have ever sold. Crown batteries are made in the U.S. and are the best in the industry because they care. They outperform competitors in durability and sustainability because they build them with today's rugged standards in mind. Since 1926, Crown Battery has responded to the "power" challenges and individual needs of industry leaders. Crown manufactures the best available products and services in the field of heavy–duty commercial, deep cycle, solar and car batteries. It's no secret how they build a better battery.
How they Do It
Crown uses modern in–line solid–cast construction and 52% more electrical current carrying area than competitor products. They build their batteries to last. Crown car batteries are the "heavy weight". And that's important because "Heavy" means energy dense plates that use more active lead materials. Heavier plates that use more active lead materials are directly related to stronger battery performance and longevity. Crown batteries use the heaviest, thickest plates in the industry. All other factors equal, batteries with more active lead material will last the longest. And Crown leads the industry in terms of lead content per ampere-hour of rated capacity. Period.
Quality of Crown Car Batteries

Crown Battery is all about quality. Quality manufacturing, quality processes and quality people that all lead to one thing – the world's best batteries for their customers. To make the wold's finest line of batteries isn't about boasting and making exaggerated claims. They leave that to their competitors. It's about commitment in everything they do. From the raw materials they use to the highest quality manufacturing processes. From their innovative product-development engineering to the people that build, sell and provide the one-on-one support. At Crown, you'll find there's a total dedication to serving customers who rely on their products and trust in the reliability of their company because trust is important.
They never settle for second best. Their products reflect this corporate-wide attitude.
Why Crown Batteries are the Best in the Industry…>
Crown Car Battery Specifications…>