Today's Power-Driven Vehicles
Driving habits have changed and the AGM Battery is becoming the battery of first choice. Today's drivers have more electrical devices to charge, advanced technology to power, and more key-on key-off moments during the day. With the increased occurrence of the start-stop function of cars, AGM Battery technology performs better than flooded lead acid batteries.
Advantages of AGM Over Flooded Lead Acid Batteries
Spill-proof due to matting technology

Low internal resistance due to thin plate construction

High initial power due to the increased number of plates

Faster charge due to low internal resistance

Better cycle life due to low internal resistance

Water retention due to glass mat separator

Vibration resistance due to compression of plates within the container

Performs better in colder temperatures
At American Battery Corp, we offer two different types, or brands, of AGM automotive and commercial batteries. We carry the Northstar Battery and the Exide Edge AGM Battery.
Northstar AGM Battery
Proudly made in the USA, Northstar Battery strives to develop technologies to deliver exceptional performance to keep their batteries ahead of the rest. The Northstar AGM Battery is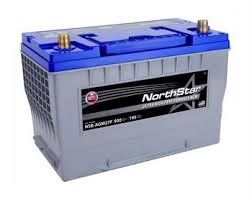 manufactured with pure lead AGM technology to deliver higher CCA ratings and Reserve Capacity cycling ability, while virtually eliminating internal grid growth.
Start-Stop Technology automatically turns off and restarts the engine to reduce the amount of time spent idling, thereby improving fuel economy and reducing emissions. But, this will quickly destroy a conventional battery. Northstar batteries are ideally suited for new vehicles that use this technology.

Advanced AGM construction means no water levels to check or terminals to clean. It also allows you to install the battery on it's side, without worrying about nasty leaks or spills.

Made in the USA at a state of the art battery plant. The plant uses the latest automated manufacturing processes and sets a high standard in environmental responsibility.

Quick starting every time with up to 2150 pulse amps.

Cycles over 400 times to 80% depth of discharge.

Faster recharge than conventional batteries. This allows for engine start and stop with no idle law challenges.

The battery uses advanced plastics for durability, performance and heat resistance.
Exide Edge AGM Battery
Also proudly made in the USA, the Exide Edge AGM Battery is the first and only battery with Sure Life Graphite Technology, among leading competitors. This technology helps to strengthen and maintain charge pathways, extending the life of the battery by reducing lead sulfate particle size. They are designed to perform, meeting the demands of today's busy drivers – from start to destination, and every point in between.
Higher energy and greater capacity to handle the heavy loads placed on today's batteries.

Higher cycling that excels in one of the toughest automotive stress tests proving sustained performance.

2X longer life that outperforms conventional batteries across life test, including heavy use stop and go traffic and high electrical demands.

Greater charge acceptance that rebounds quicker after discharge.

AGM components under high compression to aid in vibration resistance and durability.

Highly engineered alloy that resists corrosion and maximizes battery life, even under extreme operating conditions.

Cell design that prevents evaporation and cell dry-out, for longer battery life.